[Panel Recording]:

Advancing Tissue Therapeutics to the Clinic
A panel discussion on biomaterial sourcing, cell manufacturing, and regulatory strategies to develop tissue therapeuticcs
Join us for the third of our webinar series, in which Sam Wadsworth, PhD, Chief Scientific Officer at Aspect Biosystems, moderates a discussion on Advancing Tissue Therapeutics to the Clinic.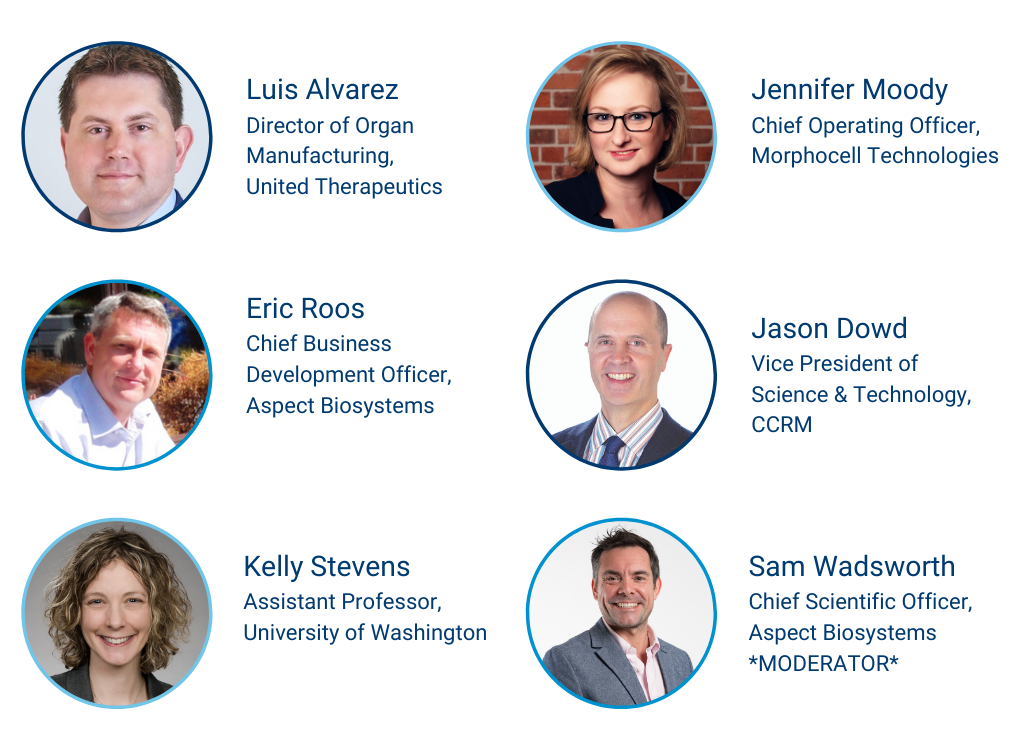 Learn more about our panelists!
Director of Organ Manufacturing, United Therapeutics
Luis Alvarez is the Director of Organ Manufacturing at United Therapeutics. The goal of this group is the development of a process to manufacture human organs for transplant, starting with the lung. Luis is also the founder of Theradaptive, an MIT spin-out whose focus is the development of biologically active implants for orthopedic repair. Luis holds a PhD in biological engineering from MIT where he was a Hertz Foundation fellow. Luis is also a 20 year veteran of the US Army and was previously a professor of cell biology and biochemistry at West Point.
Vice President of Science & Technology, Canadian Centre for Regenerative Medicine
Jason has over 19 years of industry experience in regenerative medicine, research, development and Good Manufacturing Practices. He has successfully brought cutting-edge technologies and therapeutic products to European, Canadian and U.S. markets. Dedicated to innovation, Jason joined CCRM to advance technology translation and bridge the protocol and process development pipeline to the manufacturing stage of cell and gene therapies for clinical use.
Chief Operating Officer, Morphocell Technologies
Jennifer has a PhD in Genetics and has developed expertise in the field of cell therapy through more than twenty years in the stem cell field. She has been working in industry for 14 years commercializing products spanning stem cell reagents to cell-based therapeutics. Formerly at STEMCELL Technologies, CCRM and BlueRock Therapeutics she is currently the Chief Operating Officer at Morphocell Technologies, developing cell therapy solutions for liver disease.
Chief Business Development Officer, Aspect Biosystems
Eric Roos has 30 years of experience in the development of biopharmaceuticals, cell therapy and tissue engineered products. He maintained a variety of responsibilities in the cell therapy industry supporting early phase development, process optimization, clinical trial execution and the development industry enabling tools as part of the Global Cell & Gene Therapy Business at Thermo Fisher Scientific. Eric recently joined Aspect Biosystems as Chief Business Development Officer to drive development and adoption of novel therapeutic applications of 3D bioprinting technologies.
Assistant Professor, University of Washington, Department of Bioengineering and Department of Laboratory Medicine & Pathology
Dr. Stevens is a bioengineer working to build bioengineered artificial human tissues and to remotely control these tissues after implantation in a patient. Her work focuses on building highly vascularized and metabolic tissues, such as liver and heart. She has received awards for her work, such as the NIH New Innovator Award, BMES CMBE Rising Star Award, and John Tietze Stem Cell Scientist Award.